FEATURE
Design automation for your eCommerce brand
Speed up your go-to-market design workflow without sacrificing your brand.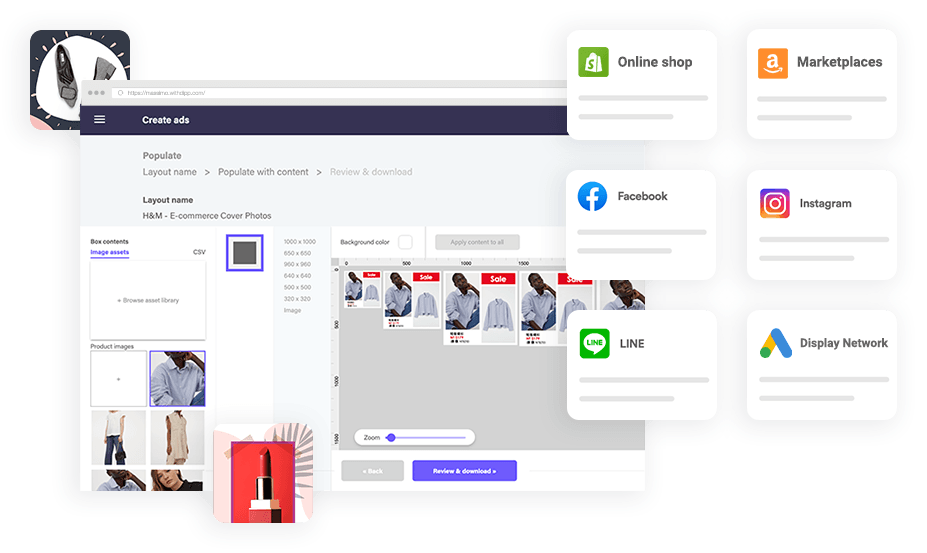 POWERFUL FEATURES
Design for omnichannel sales and marketing
Design personalized sales and marketing visuals to deliver relevant and targeted messages all the time without putting in more time or hiring more designers.
Turn a single design into many sizes or have your design adapted to different languages, products, and information
Supports all image formats for online sales and marketing from website, marketplace, social media to display networks
Aside from default channel supports, brands can define custom sizes to create campaign visuals for emails, blogs, and other channels
Your designers can upload Photoshop design files onto our platform for production automation
Upload up to 200 product assets in one workflow to generate sales and marketing visuals of all sizes for 200 products
Don't sacrifice your brand with design automation. Build your color palette, font library to produce on-brand visual every time
Make changes to messaging or product assets with a simple Excel doc, and update designs without ever opening a design file
Add all your frequently used assets into your own team asset library to have them easily shared between your teammates





WORK SMARTER NOT HARDER
Get the most out of your design automation
Be seen everywhere

Reduced design time

Maximize resources

Fewer content revisions
In a few clicks, anyone in your team can create 200 product covers for all online marketplaces
To build a successful digital brand, you need to be seen in many different channels to generate enough awareness. When it comes to creating the right product covers for your own online store, marketplaces like Etsy and Amazon, and social media shops, your manual design work simply cannot work fast enough to catch up with your marketing plan. That's why you turn to a design automation tool, it takes care of the repetitive design tasks, so being seen everywhere feels like a breeze.
Cut down 98% of your design production time
As eCommerce sales and marketing managers, you are most likely unaware of the amount of time it takes designers to complete all the design requests. For example, if you have a properly designed banner, to have it resized into different formats, it takes about an hour a size. If you have 25 sizes, it's at least 2 days of work. Through Design Automation, it can reduce the production time to no more than an hour, which significantly shorter your go-to-market time.
Freeing up 70% of your design resources, so you can do more without expanding
Decreasing your internal costs is one of the methods to maximize your profit margin, but it's not a long-term strategy when you are trying to grow. With the increasing brand presence, product SKUs, and marketing tactics, your design team simply cannot work any harder. Through design automation, you can free your designers from repetitive production tasks, and that means - more time to do meaningful design.
Fewer man-made mistakes means reducing content revision frequency by 60%
By being able to set up your brand guidelines with the proper color palette, brand typography, and formatting rules, your brand no longer has to suffer from content inconsistency due to changes of designers, computers, and so on. More importantly, your designers can be in charge of the guidelines set up, so your non-designers can start tweaking content on their own.
All you need for your eCommerce design needs